King Gizzard & The Lizard Wizard @ The Hollywood Palladium 5/31/18
Words and Photos by Anthony Mehlhaff
King Gizzard & The Lizard Wizard @ The Hollywood Palladium
I'm not as cool or as young as some of the shows and crowds I end up at and so was the case on a Thursday night at The Hollywood Palladium.  Im used to concert goers ending up at the show via Uber or Lyft, save a couple bucks on parking, I get it, but tonight the Lyft drivers also gave the young passengers a kiss on the cheek before exiting the motor vehicle.  I'm not sure if that is a new company policy or if all the fans tonight where younger than the legal California driving age.
My guess would be that the crowd was extremely young and their parents had to drive them to the show but I'm hoping it's a new added service that all ride shares will adopt moving forward.  Not that it fucking matters at all it just made me feel like an old fart clinging to my youth.  So fuck you cool kids.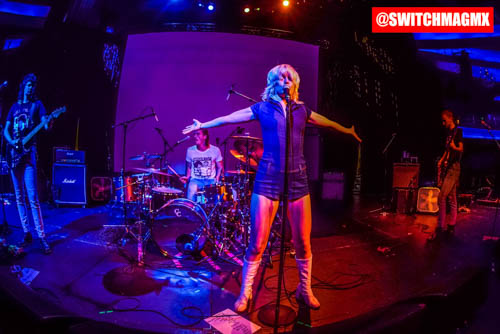 Anyways, the night before I had seen Amyl and The Sniffers first American show at The Moroccan with New York natives and one of my personal favorite bands, Surfbort at a show that will go down in the history books. Let me just say that a world tour with Amy Taylor [Amyl and The Sniffers lead singer] and Dani Miller [Surfbort's lead singer] would be a barn-burner to put it lightly.  These two women are power houses of performance and have an ability to suck you into there whirlwind of destruction like few I've seen live ever!
But tonight is about the Palladium show and it started off with a bang, in the form of Aussie indie rockers Amyl and The Sniffers who are set to release new music later this year I'm told while chatting with @dickhedofficial Declan Mehrtens as he tells me about how you should never look a lead guitarist in the eyes!  Hahah.  Basically it's like a challenge.  You've been warned.  
These guys kill it on stage and after the show are always hanging out with fans.  I will admit that being in such a large hall with such a large distance between the fans and Amy Taylor was different.  I just wish the barricades weren't their so Amy could swim amongst the pools of youth.  Don't misunderstand me, they still killed but if you get a chance to see them in a small hall, don't fucking miss it!  You'll be sorry if you do.
Tonights' crowd took a little bit to get going.  I tried to do my part by screaming in the photo pit and being excited which was quickly met with security warning me to chill or else.  I honestly was confused.  "Are we not at a rock concert!?"  "Don't yell at the bands," dude scolded me.  I pleaded my case but it fell on deaf ears as he threatened to kick me out.  It was mind boggling but I went on with shooting Amyl and The Sniffs and then checked my gear in with the gear valet before squeezing and swimming my way to the front of the barricades.  
In an attempt to get the crowd hyped for this band that I now loved I hopped (more like fell over) the rail and was quickly escorted by my "don't yell at the bands" friend.  Here's where shit got silly.  Usually at shows, "like every show I've ever been to" you make it over the wall, they [security] escorts you to the side, and then you make your way to the front to do it all over again.  It's a thing.  But tonight after creating a couple of tiny mosh pits, I decided to go over the rail for a second time and this time my bestie was not having any part of it and grabbed me by my pants strap and hastily pushed me through the crowd as he yelled, "that's it, your kicked out!  I warned you!  Don't try to fucking run!"  It would have been funny if it wasn't so silly.
My best friend had a hard time listening to my explanation of the situation and was truly pissed off.  Not sure why, maybe because he had to touch my sweaty waistband?  Maybe?  But as I sat and pleaded my case in the security's "Special Room" to be able to shoot King Gizzard's set and how it was all just a misunderstanding, my friend got a call and had to go back to the concert.  I was happy when he left because then I was able to talk to the boss and he decided to give me anther chance and let me back into the show.  Mad ups, my dude.
Crisis averted.  Hahahah.  It was weird but I got back just in time to see the headliners, "King Gizzard and The Lizard Wizzard."  Now until 1 week before knowing I would photograph the show, I had not even heard of this band except in passing and at first listen, (early EP's) I wasn't so much a fan.  But once I dove into albums like "I'm In Your Mind"  "Flying Microtonal Banana" and my personal favorite "Nonagon Infinity" the band has been on repeat in my brain and on my kia speakers ever since.  That's twice in the same week I had been extremely wrong about a band.
It just goes to show you that you really could be in the wrong mood, mind set or simply have to be turned onto the right album or more importantly see a band live.  This Pysch-rock troupe of 7 is a joy to bounce around to and to watch lead vocals and guitar player, Stu Mackenzie stab into alternate dimensions with his cosmic guitar and bend time as he head bangs from side to side, while his tongue slaps his face as he thrashes.  They played all the jams including "Cellophane" "Rattlesnake" and ended with the murderous "Nonagon Infinity" track, "Gamma Knife."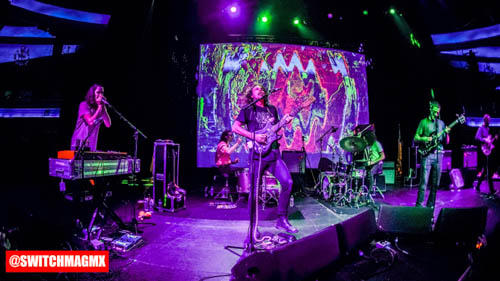 This night was awesome.  Between the Aussie music, the drama of being almost kicked out and seeing tons of homies, this experience was magical.  Haha, seriously though, go see this 1,2 combo of killer Australian musical showmanship,
This tour hits Seattle tonight and then continues all across North America.
Pick up King Gizzard and The Lizard Wizard's newest album "Gumboot Soup" at kinggizardandthelizardwizards.com and where ever else music lives.  And these guys have some of the coolest merch around so…
Don't forget to pick up Amyl and The Sniffers "Giddy Up"
And they will be more than happy to sign your vinyl copy especially my dude Dec, it's a service he provides!  Ha, love these guys.
For more show articles, contests, pics and exclusive content, follow @switchmagmx and @betahal9000
See ya in the pit, mother fuckers.  Peace, Love and rock and roll.