SLAYER: Final World Tour @ Valley View Casino Center 5/10/18
Fotografia y Palabras Por Anthony Mehlhaff
Slayer @ Valley View Casino Center 5-10-18 Fotografia Por Anthony Mehlhaff
One of the first albums (CD) this grubby, fat, foster kid was able to buy with the money I saved from mowing the lawn, crushing and picking up Great Dane dog shit was still to this day one of my favorite albums of all time I of course I'm talking about the greatest Slayer album in their entire discography. The one to rule them all, "South Of Heaven", and it was entirely because "Reign In Blood" was $ 23.99 at Wherehouse. (A place people used to buy music.)
"South of Heaven" was only $ 13.99 and with tax I had just enough. I'm sure I could have stole it but I was brimming with pride as I walked out the store almost displaying my new CD with it's red, skull cover and huge "Parental Advisory" sticker gleaming in the steam vapor glow of the parking lot. Not sure why the store I bought the album without an adult and even more so why my foster Mom did not have a religious fit when she saw me carrying that unholy optical disc. But she did not and that night I fell asleep to the soothing sounds of "Silent Scream", "Mandatory Suicide", "Ghosts of War" and of course the anthem of all anthems, "South Of Heaven."
When I woke up, I played it again and again and again. Over the years Slayer has always been one of my favorite bands if not my favorite. The music blew my mind almost as much as learning the fact that Tom Araya (the lead singer and bass player) was a Catholic. Ka-boom!
But enough about my story, wait, no, this is my story so … On with the paragraph. What I'm trying to get is that, "Fucking Slayer" and it's there final tour. No more Tom has said it before, I've missed a lot of his kids birthdays, he's been in June and most tours starting in May and the fact that Tom is touring, it's probably for the best. And fuck, what more do you want from this band !? 37 years of some of the best albums in the history of all rock! Yeah, we want more but fuck you and what you want. The music will tour forever in your car, on a plain and where ever else the fuck you take the music.
BTW, when I die, I want my family to play, "South of Heaven" as loud as the cometary speakers as I'm lowered into the earth. "On and on, south of seven!" Fuck yeah. But again, I digress.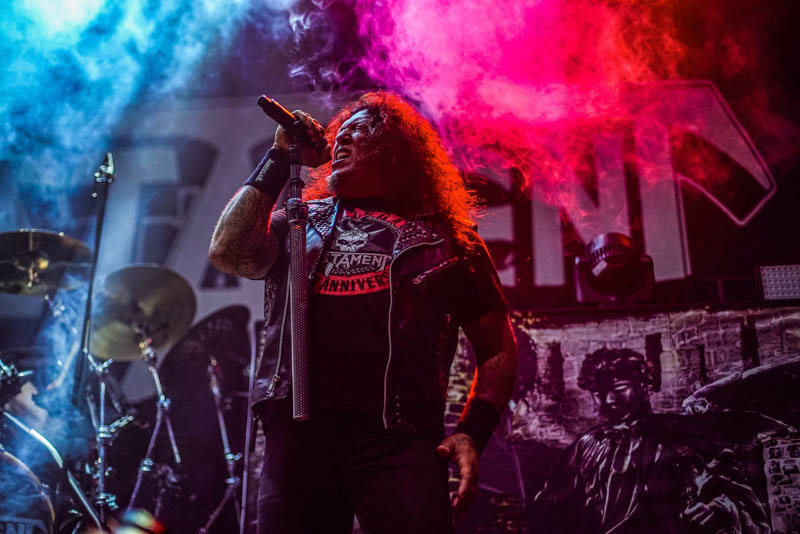 Testament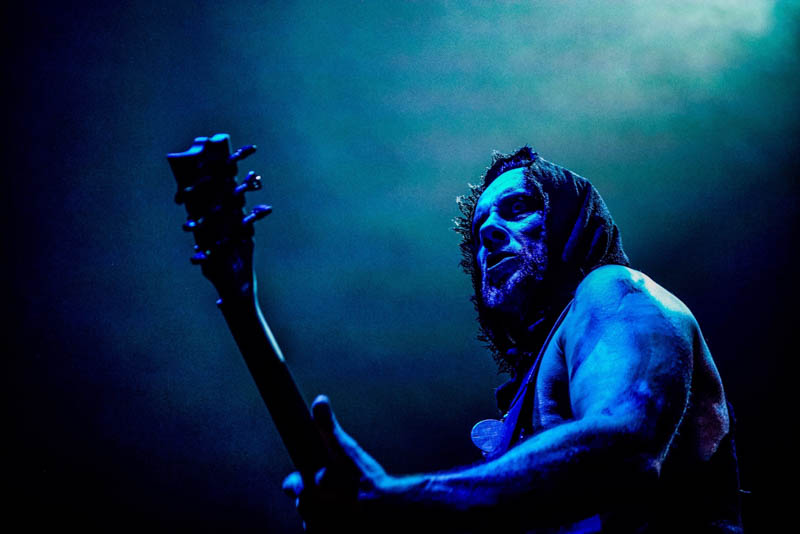 Behemoth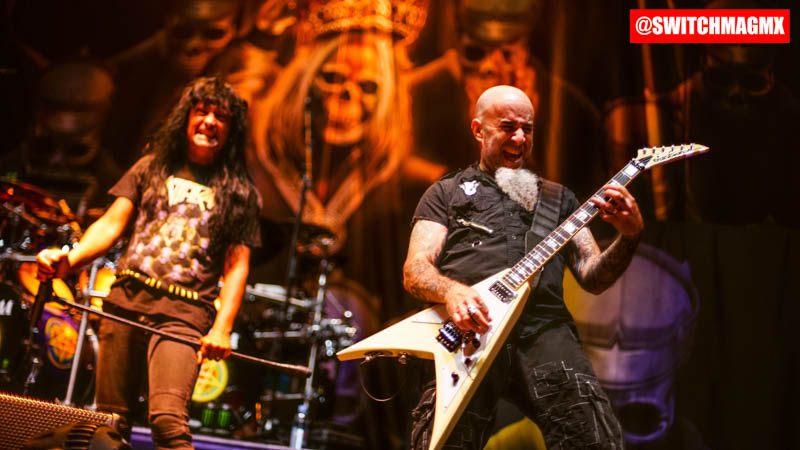 Anthrax
As I parted ways with my homie I ran into another photographer homie and we, as a team, tried to find our way to the stage. "Down the stairs, left and then around," a security dude said. Nope that was wrong, so we just wondered back stage and literally almost ran into Chuck 'Fucking' Billy of Testament and for some reason we went the other way. Fucking amateurs. Now we headed out and up, right and down, through a fenced off area that a security doubt let us through and ended up back where we began. Ha, we eventually made it to the stage and into the photo and photographed Testament and Behemoth. Because of the 5 artist bill the 2 bands played 6 songs or so and next was time for Anthrax.
So I have to make an apology and admit that I'm a fucking idiot. When I was a youngster I had a strict, "No Butt-Rock Music" policy, (that policy is still law, mostly.) These bands included bands like Crue, Cinderella, Ratt, Poison, White Snake etc. For some reason in my mind I somehow put Anthrax into that category and I'm sure it had to do with Belladonna's singing style but holy fuck! How could I have been wrong? I gave the band a try on the way from LA to San Diego and I put on the deluxe edition of, "Among The Living." It's almost a perfect album and the song "NFL (Nice Fucking Life) is a fucking song that is now burned into my head till the end of time. I love this album and Anthrax live sealed casket lid shut because they fucking killed. I can not say this any louder. "ANTHRAX IS THE SHIT!"
After Anthrax I was worried I would not be able to get an epic Slayer shot because I was still with out Slayer Pass but Satan had my back and compelled Lesley to give me the mighty Slayer Photo Pass. (I actually think it was Lesley's own free will but …)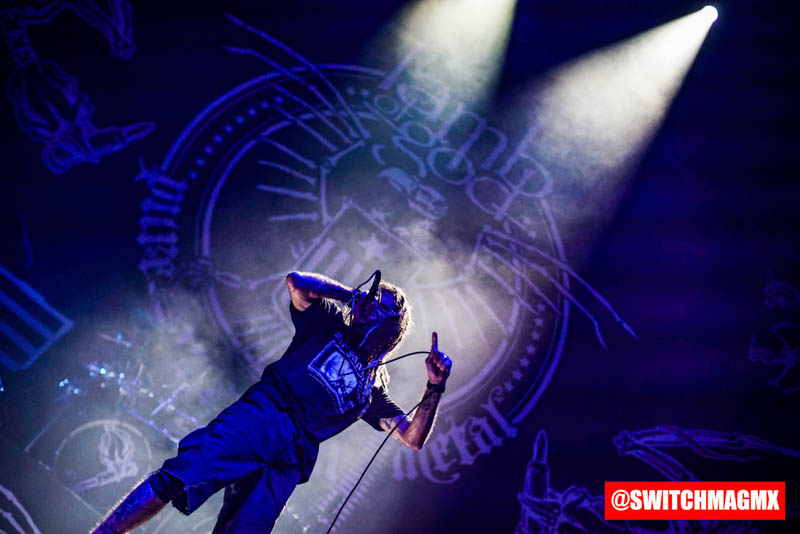 Lamb of God
Lamb of God played and everyone was ready to catch Randy Blythe in mid flight and honestly I've never heard of LoG (funny acronym) song and after 3 songs I went to the lounge to edit some photos. I'm not saying that I do not like LoG, "I mean, it's bigger, it's better, it's wood." Jk. I will give them to listen and I'm sure I'll see them again. Besides, a local photog that was working for Thrasher Mag, (represent) had nothing but nice things or say about Randy and how cool he was. And if a cool dude says that another dude is, to "cool dude," then it's official. Bonus, that photographer let me in on a dope taco spot that I hit up on my late night drive back to LA that did not disappoint. (It gave me the shits,) but it was still the bomb.
So … It's all up to that epic Slayer photo and then getting in the Deloren, reaching 88 miles an hour to generate 1.21 gigawatts of power and going back to the future to blow 10 year old me's mind! I could care less about fucking up the future, shit, what's the worse thing that could happen? But first, I have to get this epic pic and for that to happen everyone has to get the fuck out of the fire lanes because the fire Marshall is not the one to fuck with.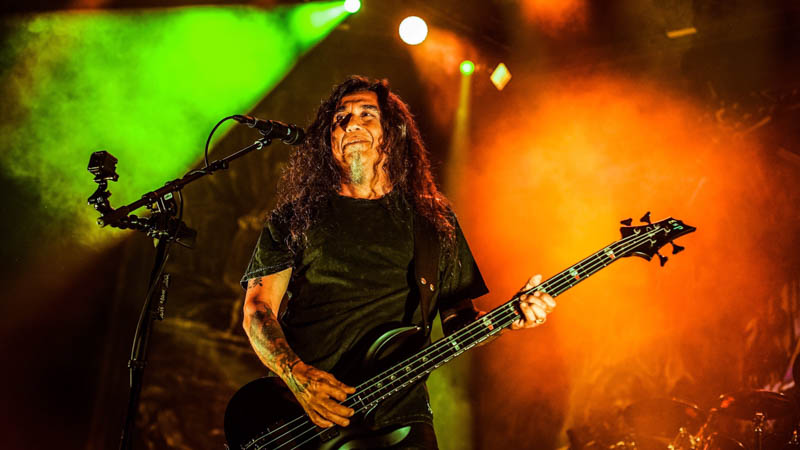 Slayer
I really can not explain how fucking this experience was for me on a personal level. Growing up the music I loved being judged by society and all authoritiy figures as a hazard to our health and not one, not fucking 1, of my foster parents had the balls to take a show of my liking. They worried I would become a devil worshiper but this music and Slayer specifically, got me through some weird times and made me a free thinker, tougher and braver. The music also makes a great soundtrack while taking your dog to the dog park or your kid to kindergarten.
I got my shots and walked back among the thousands of savages to see the rest of the show. When "South of Heaven" was played I lost my shit with a giant, behemoth of a man, as we screamed the words into each others faces. The show had to be stopped once because of fire lanes being blocked and Tom thanked everyone, talked about karma and thanked us again. I'm happy I got to witness this epic spectacle and it's something I will not soon forget if ever.
For more live concert photography, contests, giveaways and more, follow me @ betahal9000 on instagram and check out more concert coverage, backstage content and photos from all over SoCal and beyond @switchmagmx