Gentle Giant – Three Piece Suite
Legendary Prog Rock Band Set To Release Remixed Compilation Of Their First 3 Albums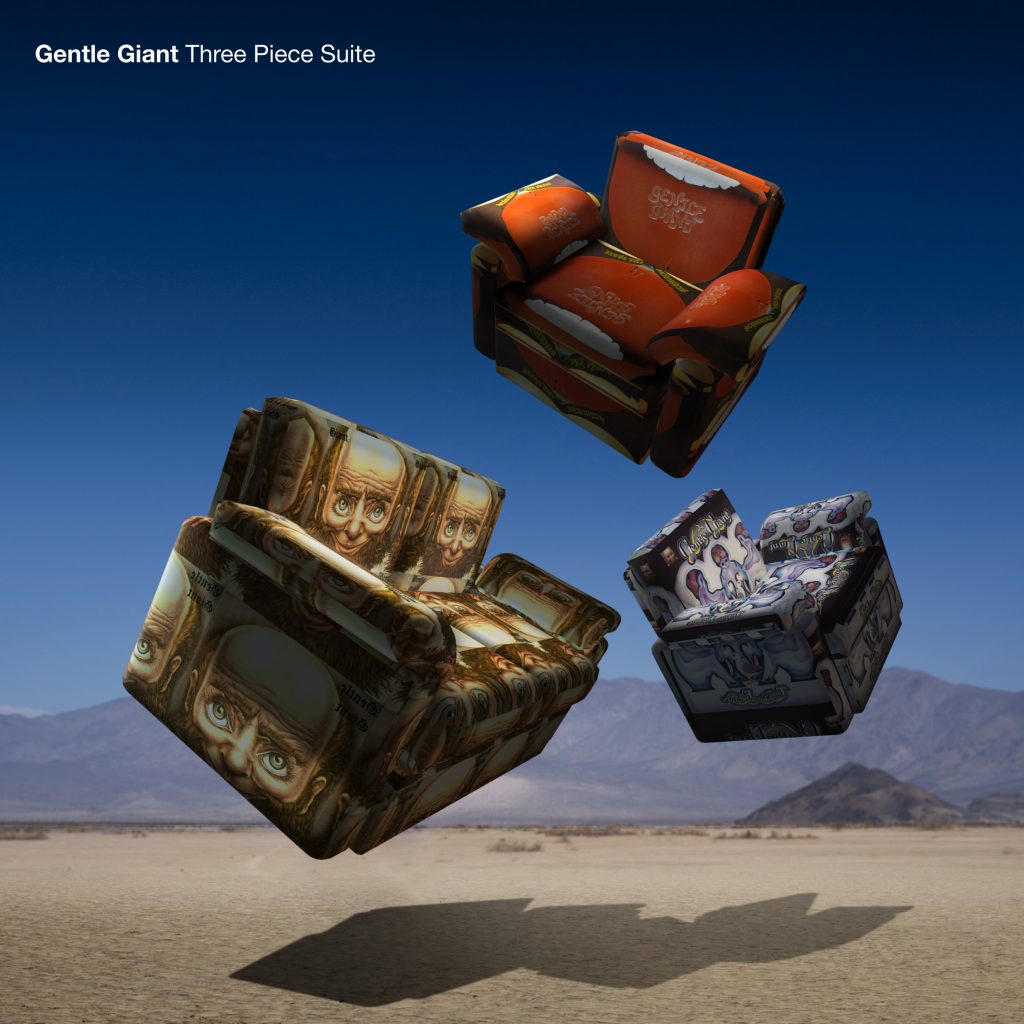 On September 29th, 70's Prog Rock Legends 'Gentle Giant' will release "Three Piece Suite", a compilation of remixed and remastered songs from the bands first three albums (Giant, Acquiring the Taste, Three Friends) presented in both 5.1 surround sound and stereo. The remixes are work of 'Porcupine Tree's' Steven Wilson. Starting with 'King Crimson' back in 2009, Steven has been going back to the original master tapes of these albums and refreshing the sound of albums such as 'In The Court of the Crimson King', 'Aqualung' by Jethro Tull, 'Close To The Edge' by Yes, and many more.
Multi-Track Masters are the original recordings that bands use to mix an album. A "Master" has all the different instruments separated individually. Let's say you want to raise the flute solo in 'Thick as a Brick' or perhaps lower an organ part from Emerson, Lake & Palmer's "Tarkus". Having these original masters allows you to do just that. With these master tracks, Steven has the ability to include a 5.1 mix with every album he works on. He can put an organ on the back speaker while the guitar in playing across from you while the vocals are moving around your head. The 5.1 mixes that Steven does are a real treat if you like to immerse yourself in the music.
A lot of original masters are still in its original analog tape form and with time they can go brittle and break. Most record companies have them stored and safely preserved for future use. Sadly, over the course of time, many labels go in and out of business and keeping track of the masters becomes difficult. Such is the case with Gentle Giant. The band previously re-released their 1973 album 'Octopus' but a couple of the original masters were not found which mean Steven Wilson had to only work with the tracks available. It was rumored that Gentle Giant would be releasing a new remix of their  'Three Friends' album but once again some of the masters went missing. Only a few songs from each album are known to exist as multi-tracks, with the rest presumably lost.
Gentle Giant's Three Piece Suite includes the songs "Giant," "Nothing At All," and "Why Not" from the first album Giant.
"Pantagruel's Nativity," "The House, The Street, The Room" from the second album Acquiring The Taste.
"Schooldays," "Peel the Paint," "Mr. Class And Quality," and "Three Friends" from the album Three Friends completes the list of the original recorded material.
Three Piece Suite is available in the following formats:
*A two-disc digipak containing 96/24 animated Blu-ray plus CD.
*A single disc digipak CD.
*A two-disc gatefold LP in180g high-end vinyl.
*A digital download of the two disc Blu-Ray plus CD version.
To Pre-Order the new album visit: https://burningshed.com/store/gentlegiant
For more Gentle Giant news and updates, Like them on Facebook https://www.facebook.com/gentlegiantband/