X Fest: Nuclear Assault, Hirax, EvilDead, Toxic Holocaust @ The Regent 1/6/18
Words and Photography By Hugo Juarez
With the new year came one of the biggest shows of 2018 that every metal head in Los Angeles was talking about. With a heavy line up and a completely sold out show I was not surprised of the of the terrific mayhem that took place on this evening at The Regent Theater in Downtown Los Angeles. Although I did arrive later than I had anticipated, there was still more to endure as the set list for this show was quite huge. Show Your Scars has a previous installment known as Dia De Los Metaleros which had a variety of bands playing. This time however was known as X Fest with a line up consisting of iconic thrash titans such as evil dead, toxic holocaust, hirax and the ultimate legions in Nuclear Assault. Of course you can forget about the openers of this fest starting with Braindead, pounder, thrown into Exile and The super group Expulsion. At my time of arrival I had already missed the opening band Brain Dead who I've known for quite some time to be the kind of band that's fast loud and rude, still worth checking out if you love that speedy Anthrax type of vibe.
Pounder, another local band was currently up on stage and with a growing crowd by the second the guys definitely put a great performance. I got a heavy speed metal type of vibe from them, forming in 2016 I was astounded that I had not seen them live before as I like to enjoy these types of bands just as much. The audience, still giving them their full attention made it clear that these guys are doing something right. so I'm making sure to keep an eye out for them in the near future.
As 6:00 rang in Thrown Into Exile was now on the stage at last. This was my first time ever seeing their full set, while I've seen the videos and listened to the music, seeing Thrown up on stage was a real treat for me since I've known both guitarists Ray and Mario for quite some time. As soon as their Singer Joey went up onstage he immediately started interacting with the crowd making sure everyone was just as hyped as the band. With only a 30 minute set the band was able to deliver the goods. As mosh pits start breaking out and the floor is getting filled with concert goers. The acoustics were setting into more than perfectly for the 5 piece hellions. The stage presence was all their and everyone's in sync to what's happening on stage and with each other. Another heavy LA based band worth checking out if you like bands such as Incite, Divine Heresy and God forbid.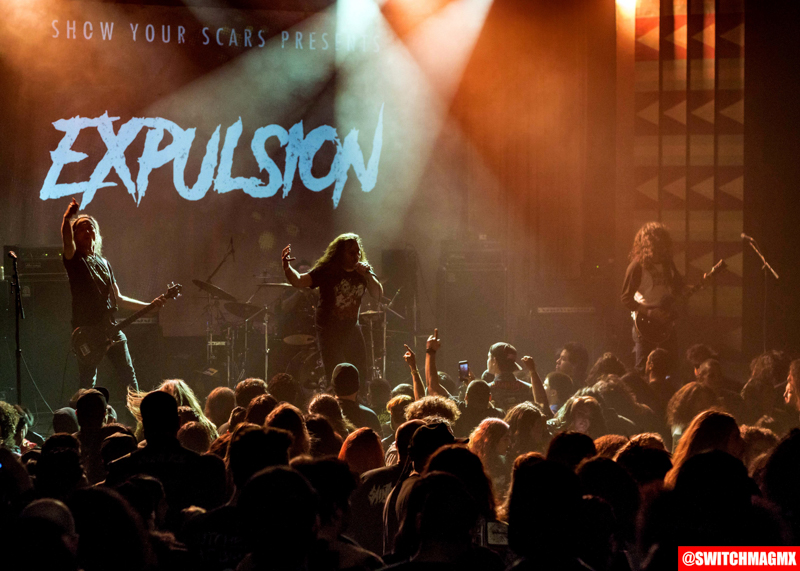 6:45 Up next is the super group Expulsion with members from groups such as repulsion, exhumed, gruesome and phobia. This old school grindcore tube band leaves you on the edge and with such talented members it's no wonder they had some of the first stage divers already flinging toward the crowds. You can definitely here the influences seamlessly through all the members on what works well and judging by the engagement going back and forth with the crowd, they're giving them just what they like. Having a veteran type of reputation there is certainty that this band will stand out more often than you'd think.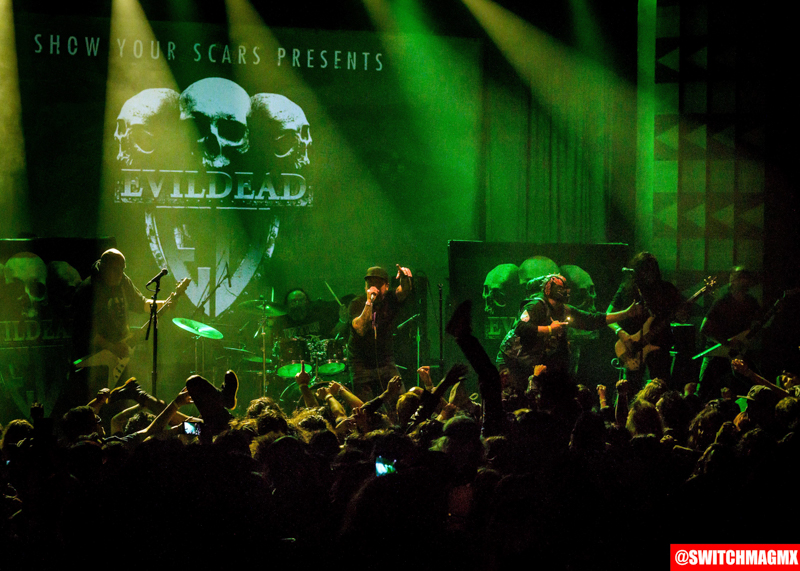 At this time Evil Dead takes the stage and with the crowd already chanting you can already tell that things are about to heat up. Without a second to spare pits start opening up wider and crowd surfers are coming at front row spectators left and right as the band starts off their set. These LA Thrash icons were recently headlining a show this past year at the union which had a tremendous gathering of heshers, and this time they achieved and surpassed every expectation they had sought out. Playing classics such as "gone shootin" and "Annihilation of civilization" always gets the crowd pumped. What I love about the Regent is that it's not so huge and definitely has a limit that works more than well to have people standing off to the sides while having just enough elbow room for friendly violent fun. With such a great performance and only in a half an hour set, I'm sure that the crowd would have loved a few more songs thrown at them.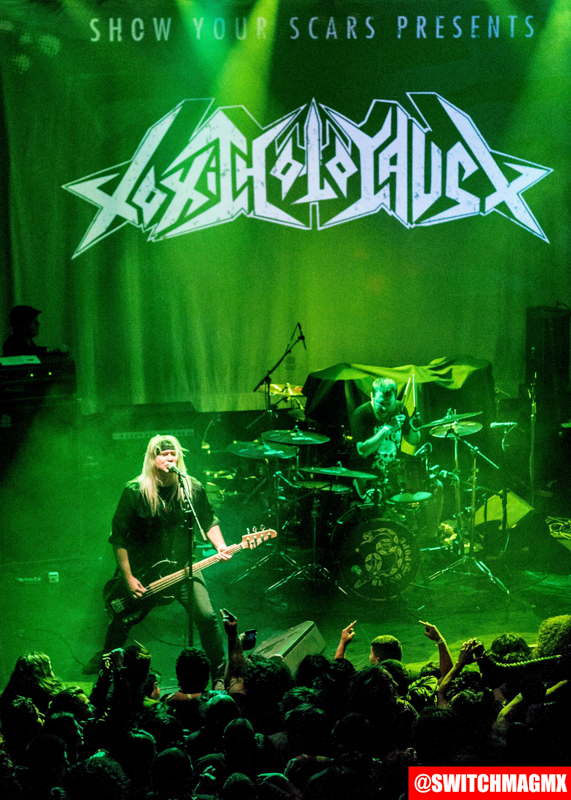 With all the excitement going on it's amazing that the audience is still screaming for more. this time hailing from Portland Oregon, Toxic Holocaust was more than ready to unleash hell.  Giving them an extreme metal label that doesn't discard the fact that these fine gentlemen know how to work a crowd with some heavy thrash riffs. With songs like 'Wild dogs', 'Lord of the wasteland' and 'nuke the cross' there's absolutely noting getting in the way of them and their audience as people literally start flying in mid piling on top of one another. One thing is having a great set, another is having everyone get rowdy while still having a great time. Toxic is never a disappointment and with the many wide arrange of fan base that they carry it's no wonder they're as successful as they are.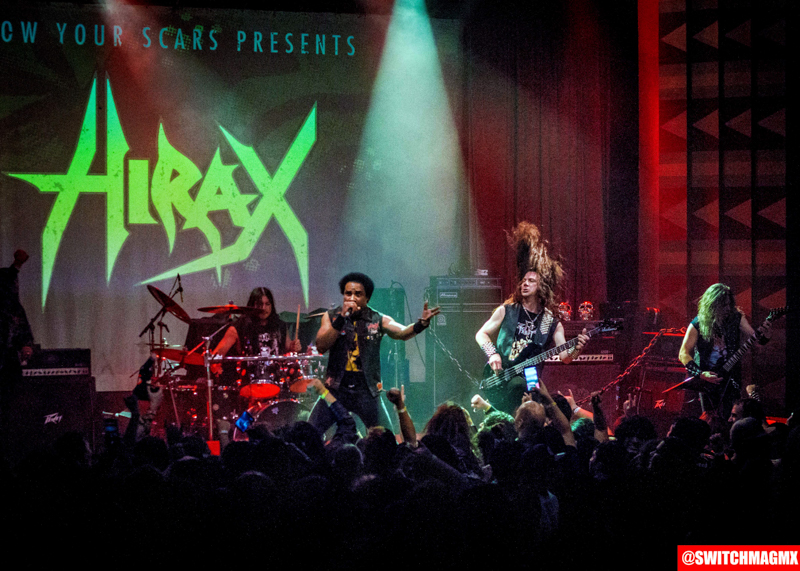 With two more bands still waiting to take the stage and both floors already getting jam packed, Hirax was backstage making sure everything was set to explode. With their frontman Katon coming in strong you can already tell he's felling what the crowd is feeling. Right off the bat we were already in for another half hour of pure metal madness, all I could really see at this point we're just bodies of people up top over and all around the stage. One things for sure, with another great veteran thrash band these guys give every ounce of effort they can throw to make sure that both ends are enjoying every second of it. What definitely got me excited during their set was hearing 'Hostile Territory' and 'El Diablo Negro' which are some of the heavy hitters for Hirax. there's no doubt that this band accomplished giving nothing but a good time and leaving everyone fired up for what was to come up next.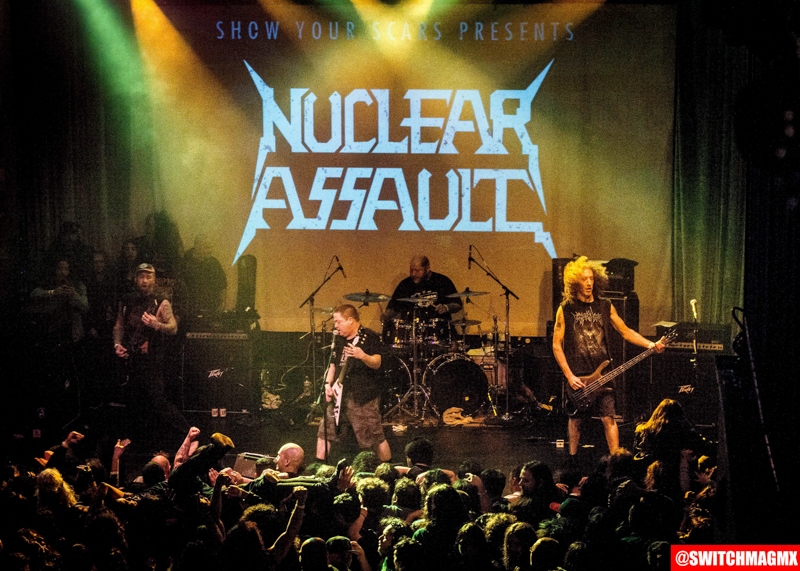 Last up but certainly not least with the clock rounding up at around 
10:30
 or so the main event hailing from the big Apple New York is the mighty Nuclear Assault. With an hour long  set there was no telling what was in store. Sure enough there was madness left and right, with such banger songs like 'critical mass', 'game over', and 'stranded in hell' one of my favorites.  I did catch the brutal truth cover which had occurred since at this time John had ripped a string. Definitely giving the guys credit for that recovery. 21 terrifically chosen songs to end the night, it's a spectacle to behold and quite honestly one of the best ways to start off the first big show of the year. Nuclear Assault stayed at one of their last shows 'California death fest' was to be one of their last performances, their next show will be held at the Saint Vitus in New York. Will we expect another tour? Hopefully so given that they did come back for this one at the Regent. My best recommendation is to catch them there to feel the heavy wrath that is Nuclear Assault!