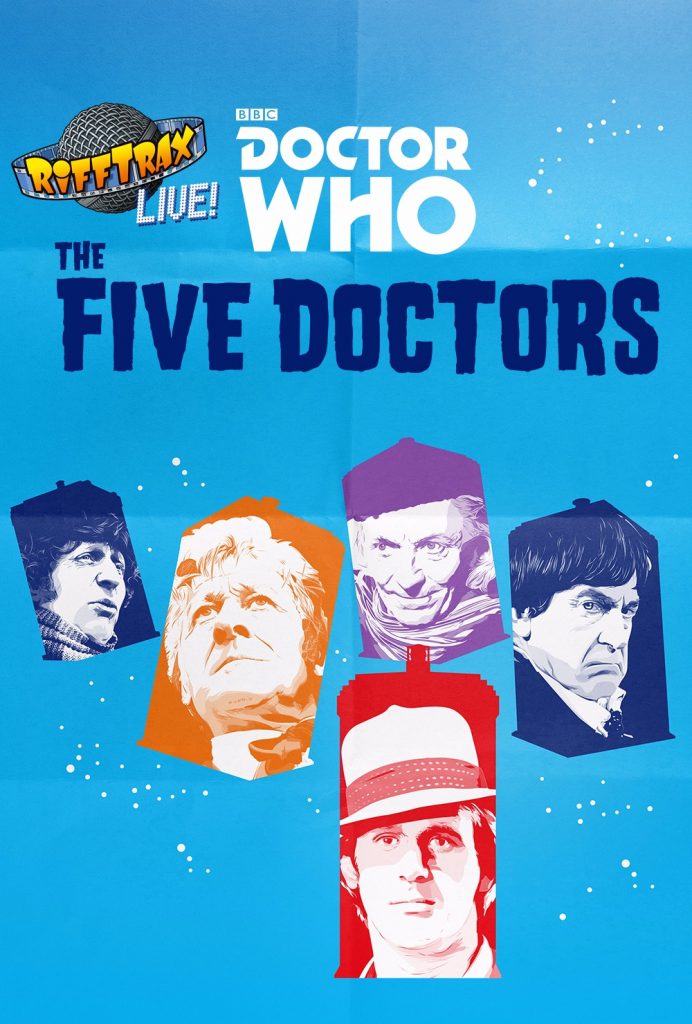 In less than one month, the 
RiffTrax
 crew take on the 1983 Doctor Who Film "
The Five Doctors
." But, before it premieres in movie theaters nationwide, they've decided to share a special mini-podcast. This recorded conversation covers riffing The Five Doctors, visiting BBC, checking out the studio in Cardiff Wales, getting taffy on the TARDIS buttons, and more. Listen to the podcast
here
"RiffTrax Live: Doctor Who – The Five Doctors" is the 26th RiffTrax title for Fathom Events since the 2009 start of the companies' partnership. The Rifftrax crew has previously riffed on classic bad movies such as 'Reefer Madness', 'Starship Troopers', and the Tommy Wiseau masterpiece 'The Room'.  RiffTrax consists of Michael J. Nelson, Kevin Murphy and Bill Corbett. All three worked as writers and performers on the popular 90's television show 'Mystery Science Theater 3000'.  MST3K was created by Joel Hodgson and it featured various bad B-Movies where Joel and his crew would make fun of them as they watched. Mike Nelson was the series second host after Joel left in 1993.
"We couldn't be more excited to finally be meeting the Doctor on the big screen," Michael J. Nelson of RiffTrax said. "Well, not just one but five Doctors, making this event five times more fun."
"
RiffTrax

 Live: Doctor Who- The Five Doctors"
 will be shown on 
Thursday, August 17
 at 
8:00 p.m. ET
 / 
7:00 p.m. CT
 and tape-delayed to 
7:00 p.m. MT
 / 
8:00 p.m. PT
, with a rebroadcast on 
Thursday, August 24
 at 7:30 p.m. local time. Tickets can be purchased online by visiting 
www.FathomEvents.com
 or at participating theater box offices. For a complete list of theater locations visit the Fathom Events website.
Follow Rifftrax and Fathom Events on Twitter:
@Rifftrax @FathomEvents