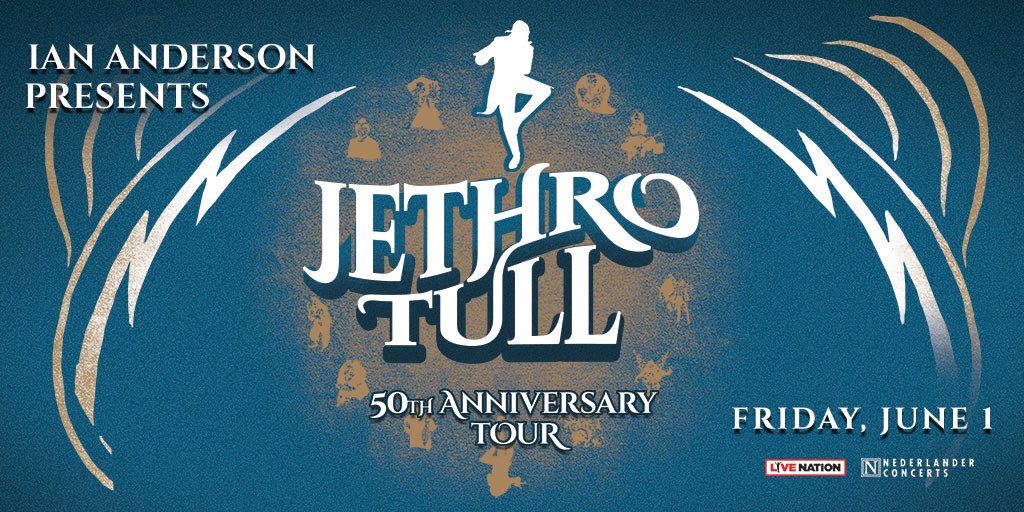 Fue el 2 de febrero de 1968 en el mundialmente famoso Marquee Club en Wardour Street que Jethro Tull se presentó por primera vez con ese nombre. El grupo se convertiría en una de las bandas más exitosas y duraderas de su época, vendiendo más de 60 millones de álbumes en todo el mundo y entrando en la conciencia colectiva cultural a lo largo del camino.

Para celebrar este aniversario de oro, Ian Anderson presentará 50 años de Jethro Tull en el Greek Theatre de Los Ángeles el viernes 1 de junio. Las entradas estarán a la venta el viernes 17 de noviembre a las 10:00 a.m. en Ticketmaster.com.
El álbum debut, This Was, fue lanzado más tarde ese mismo año. Fundador, líder y flautista, Ian Anderson, se acredita con la introducción de la flauta al rock como un instrumento de primera línea, por no mencionar el codpiece!

Jethro Tull es uno de los artistas de rock progresivo más vendidos de todos los tiempos y su inmenso y variado catálogo de obras abarca folk, blues, rock clásico y heavy. Los conciertos de aniversario contarán con una amplia mezcla de material, algunos de los cuales se enfocarán en el período formativo anterior hasta llegar a los "heavy hitters" del catálogo Tull de los álbumes This Was, Stand Up, Benefit, Aqualung, Thick As A Brick, Too Old To Rock and Roll: Demasiado joven para morir, canciones de madera, Heavy Horse, Crest Of A Knave e incluso un toque de TAAB2 de 2012.
Anderson dice: "Normalmente no soy un tipo de cumpleaños o aniversario, pero, por una vez, ¡tampoco voy a ser una fiesta! Valoro los recuerdos de los primeros años del repertorio de Jethro Tull, asociados con las aventuras de visitar tantos países por primera vez para conectarme con nuevos fanáticos de todo el mundo. Y esta es una celebración de los 33 miembros de la banda que se destacaron en nuestras filas: músicos que aportaron sus talentos, habilidades y estilos para influir en las actuaciones en vivo y en el estudio. Únete a mí y a la banda actual para una noche nostálgica de música variada, representante de mi siempre cambiante composición de canciones a medida que nuestras carreras progresaban a través de los años ".
Ian Anderson es acompañado por los músicos de la banda Tull David Goodier (bajo), John O'Hara (teclados), Florian Opahle (guitarra), Scott Hammond (batería) e invitados virtuales sorpresa.
Para comprar boletos, visita
https://www.lagreektheatre.com/events/detail/ian-anderson-presents-jethro-tull-50th-anniversary-tour